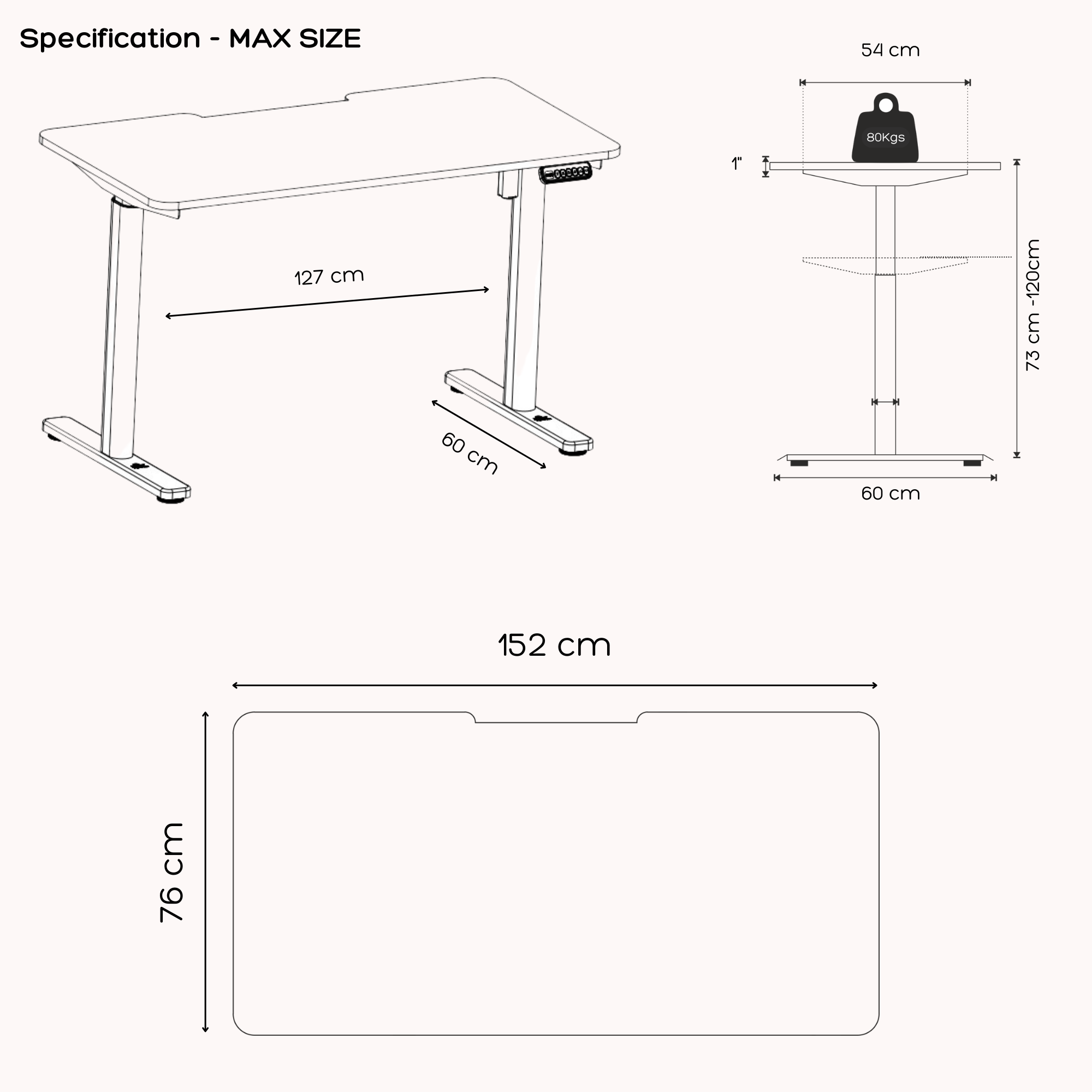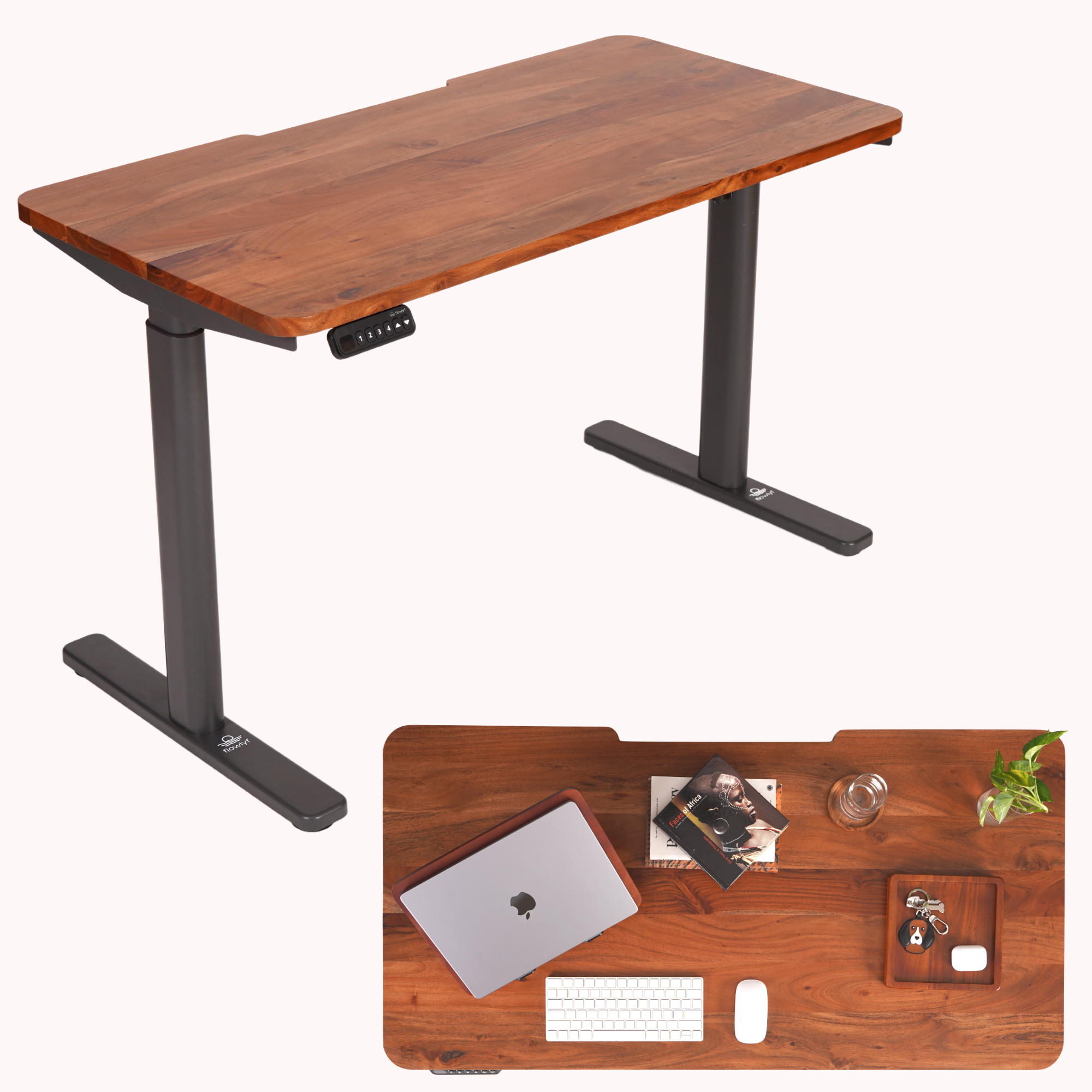 Electric Height Adjustable Desk - 2yr WARRANTY| Oval Column| 2 Stage -1 Motor | 80 KG Wt | SolidAcacia wood top|Sit Stand range 73 cm-120 cm| 4 memory pre-sets Controls
10 customers are viewing this product
Wipe the furniture daily with a soft cloth (a slightly moist cloth is advisable to catch dust).
Avoid exposing the wood to alcohol, deodorants, perfumes, nail varnishes and similar liquids. If spills occur, wipe immediately with a dry cloth. These liquids will pull moisture from the wood if left, causing cracking. Alcohol such as red wine would also stain the wood.
Place your furniture carefully so that it's not in contact with direct sunlight (this can cause fading and, in extreme cases, cracking).
Do not place furniture next to fireplaces or radiators as this can cause warping.
We recommend using placemats and coasters when resting drinks or dishes on the furniture.
Avoid all cleaning tools with a rough surface. This will wear down the finish and increase the likelihood of scratching.
Avoid polish or cleaning products containing silicone, which can dry out natural wood over time.
Do not use detergents or any cleaning products that contain ammonia. These will take the moisture out of the wood and wear down the finish much faster.
This surface is manufactured from slabs, obtained by fully matured trees. Furniture made from solid wood has beautiful grains, which are truly natural, making no two surfaces look alike.
These are natural knots and not damaged wood.
Know your wood before making a purchase
Natural creaks along the grains are a very common occurrence in natural wood surfaces. Please note this is not a defect.
The wood creaks along the knots of the wood will be present across all surfaces and cannot be controlled as no two surfaces are the same.
These veins never open the surface up. They're on the upper layers and will remain as is throughout. They add to the beauty of solid wood furniture.
We request our customers to understand that this is not an engineered wood surface and hence irregularities are invariably present. This is purely a natural occurrence with no human control.
The desk is made up of joined planks, only in case the plank opens up, we provide a no questions asked replacement, as that is termed as a manufacturing defect.
All other nodes and minor vein creaks do not apply for a replacement.
Please follow the care guide for maintaining your desk
Shipping & Delivery
For Outright Purchase & Subscriptions via Credit Cards
FlowDesk is shipped within 48 hours of closing the payment from Delhi (dispatch unit)
For Subscriptions done via E - mandates
FlowDesk is shipped Within 7 days of closing the order, as it takes upto 7 days via E-mandates for the amount to get reflected in the bank account, post registering the E-mandate./p>
Post Shipping From Dispatch Unit
It may take upto 5-6 days in transit (post shipping from Dispatch Unit) to places such as; B'lore, Mumbai, Hyderabad, Jaipur, Kolkata, Pune, Ahmedabad, Surat, Vizag, J& K, Indore, Chandigarh, kanpur.
It takes 1 day in transit within Delhi- NCR.
It takes 1 day in transit within Delhi- NCR.
The shipping is done via 3rd party, hence we request you to be patient with the customer success team while they help you with the issues related on delivery/shipment.
Note: Transit days are subject to change as per the weather conditions/ unprecedented virus outbreak/other restrictions/ strikes in your State/ City/ Area.
We have a 15 days no questions asked return policy on outright buy, as long as you keep the desk in original packaging and un- damaged. In case of loss or damage of the packing material a replacement fee of INR 2500 (pre tax) shall be charged.
You will not be charged for reverse pick up.
We will require you to stick few documents, which we will mail you on to the package so it can be picked up by courier partner.
The amount will be refunded back within 4-5 working days of receiving the FlowDesk, as it will go into Quality Checks for damages.
Surface : 1 Year - against termite/borer infestation
Frame : 3 years
Motor & Electronics : 2 years
The warranty specifically covers manufacturing defects and does not extend to normal wear and tear resulting from regular usage.
In case of any issues during the warranty period, we will replace the faulty part at no extra cost, including shipping.
To facilitate the warranty or replacement process, it is essential to provide clear videos and pictures of the faulty part for thorough analysis.
PLEASE NOTE:
To ensure a seamless experience, we'll schedule the pick-up of the faulty part first and then promptly ship the replacement.
The replacement process is user-friendly and is done at users end, and we are here to assist if needed.